Geyserville, Sonoma County
In the northern reaches of Sonoma County, Geyserville is the second to last town you reach before crossing over the county border into Mendocino territory. What has always been a small, rural town (current population is no more than 2,000 people), the Geyserville community has done a lot to make sure that wine country visitors are attracted to this area. Exiting just off Highway 101, onto Geyserville Avenue, the town's main street bustles with energy. There's a handful of winery tasting rooms, restaurants and shops, enough to provide plenty of fun for an afternoon or a weekend in town.


Newest to the winery tasting room scene in Geyserville is Pech Merle. A hipster-chic, brick-laden tasting room, Pech Merle brings new energy and tasty wines to the main street attractions. The atmosphere is fun and comfortable, and the wines offer a range from which to taste, as they make several varietals coming from various Sonoma County appellations. I've always enjoyed their Pinot Noir and Cabernet Franc, and their Ivy Rosé is a great summertime sipper or apéritif.
Just a couple doors down from Pech Merle in Geyserville is Diavola Pizzeria. Diavola has been a long-time favorite of mine, ever since I stumbled upon this place several years back after a day of wine tasting in Alexander Valley. Diavola also has that brick-laden, rustic feel of the Pech Merle tasting room, no doubt a part of the historic charm of the town and the age of its main street buildings.


Diavola's dinner menu, created by Chef and Owner Dino Bugica, is classic Italian-inspired, wine country fare: plenty of fresh and seasonal antipasti, pasta dishes, cuts of meat and fish, and wood-fire roasted pizzas. The menu is fairly straightforward and packed with tons of flavorful dishes. Before you even get to the menu though, you'd be remiss to not indulge in some of the flat, crispy, addicting breadsticks that are placed on your table. Dotted simply with salt, pepper and an array of Italian herbs, these breadsticks are sure to satisfy any carb-lover's cravings and tide you over until the antipasti is ordered.


One of my summertime favorites from the antipasti selection is the Fried Green Tomatoes & Burrata. Char-grilled French bread is plated alongside a heaping serving of creamy burrata, with crispy and tender fried green tomatoes; the mixture of briney capers, sweet raisins, fresh purslane, roasted peppers and pine nuts makes for a flavorful, balanced and textured dish.


From the cuts of meat and fish, the Pan Roasted Alaskan Halibut is wonderful. Served with onions, mushrooms, peppers and zucchini in a corn potato sauce, this dish is hearty and filling while still being healthy and fresh. The halibut is well-cooked and tender, with crispy brown edges, which is a texture that is nicely juxtaposed against the creamy, melt-in-your-mouth corn potato sauce. The vegetables are cooked to a firm consistency, so as to give the dish some additional textural complexity. Spicy peppers are contrasted against the sweet corn, while the zucchini and mushrooms round out the flavor profile in a balanced manner.
Of course, a dinner at an Italian-inspired, wine country restaurant wouldn't be complete without a taste of gelato. The espresso gelato tastes like it is infused with almond paste and has a blissful texture. The sweetness is not overdone, but rather just right with its coffee bean and nutty flavors standing out more prominently than the sugar. The post-dinner coffee was strong, too—always a plus on my list.
As for their wine list, it is full of local wines and Italian classics. The latter is a bit more fleshed out on the wine list, as one would expect in an Italian restaurant. They also carry beers on tap and a handful in bottle, but from what I remember, it was not nearly as interesting as the wine list—which is a bit of a shame, given that Sonoma County (and even Mendocino!) has so many fantastic craft breweries that could be featured here on tap.
Dry Creek Valley
For those looking to dive a little further into the vineyards and venture outside of Geyserville, there are plenty of wineries to visit among the appellations of Alexander Valley to the east and Dry Creek Valley to the west. Alexander Valley is not quite as populated with wineries as Dry Creek Valley and offers a quieter scene with spacious views. Whereas Dry Creek Valley is a good choice if you'd like to make multiple stops in a shorter amount of time, as the many wineries along Dry Creek Road are fairly close together.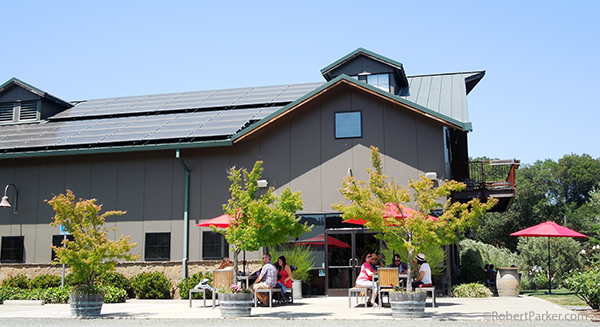 Some of my absolute favorite wineries in Dry Creek Valley are Mauritson Wines and Kokomo Winery. Mauritson offers a stellar collection of Dry Creek Valley wines and one of the most impressive collections from the Rockpile appellation, where their family also owns estate vineyards. Don't miss an opportunity to taste their Rockpile Bordeaux-style wines, because they are fantastic. Kokomo Winery is always enjoyable, as their range of excellent wines offers something that everyone will like. My personal favorites are their single vineyard bottlings of Zinfandel from Dry Creek Valley. Classic in their expressions with complexity and bountiful fruit, these wines are quintessential Dry Creek Valley Zinfandel.
Alexander Valley
On the east side, in Alexander Valley, a must-visit is Hawkes Winery. Their beautiful estate vineyards provide the perfect setting for a relaxing afternoon. There's a picnic table on site and I recommend grabbing some snacks from the local Jimtown Store before heading to Hawkes for a tasting. You can setup your picnic and leisurely taste through their excellent Bordeaux-varietal collection. As far as Alexander Valley Bordeaux-style wines are concerned, you'd be remiss if you didn't visit Hawkes. These are impressive expressions with complexity, energy and character.
Boonville, Mendocino County
Driving up past the Sonoma County line into Mendocino County, the first place to visit is Anderson Valley Brewing Company (AVBC). This solar-powered brewery, located in the (even smaller than Geyserville) town of Boonville, has a cult following across California. They have pretty good distribution, too, so chances are you've seen their beers at a local craft beer shop.


The drive to AVBC is a bit windy, but lovely in its forested setting. Boonville is at the southern tip of Anderson Valley, a well-known Mendocino appellation that produces excellent Burgundian and Alsatian varietal wines. So, as one would expect, there are stunning views of mountainous vineyards nestled among Redwood and Live Oak trees along the way.


On a recent visit to AVBC, I tasted two beers: the Summer Solstice is a seasonal, cream-style ale that goes down easy with lots of flavor, and it's easy to find because it's distributed in bottle; and the Saison, which is a seasonal (non-bottled and only offered at the brewery on tap) release that had been briefly kept in wine barrels filled with Riesling lees—certainly giving the wine a tart, refreshing acidity and yet with a creaminess that one would expect in a wine or Champagne that rests on lees. Fascinating and tasty! With every visit I make to a Northern California brewery, I am seeing more and more overlap between the wine and beer worlds.
I've been told there are some nearby swimming holes, on the Navarro River just outside of Boonville, but on this occasion I didn't venture out to find them. There's always next time...
---
More articles from this author