Jean-Paul Jeunet - Haute-cuisine in the Jura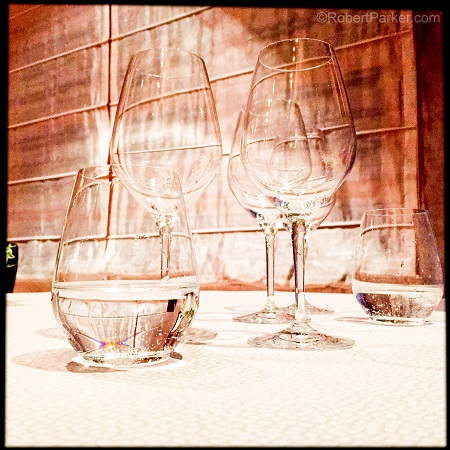 Arbois is the wine capital of the Jura, as much as neighboring Poligny is the world capital of Comté cheese or Lons-le-Saunier is the world capital of The Laughing Cow cheese wedges (seriously!). Each village here seems to be the capital for something or other... Anyway, Jean-Paul Jeunet is the haute-cuisine restaurant in the Jura wine region, the one Michelin-starred establishment in the region, a hotel and restaurant in the very center of Arbois, near the Place de la Liberté. A must if you're visiting the region.
The restaurant has a long story, and Jean-Paul Jeunet is the son of the famous Jura chef André Jeunet. André Jeunet, born in Arbois, was a contemporary to Paul Bocuse and Jean Troisgros. After being defeated twice by such contenders in France's best cook competition he gave up and decided to go in for the best sommelier in France contest... and he won! So the famous cook from Jura was actually the best sommelier from France. Jean-Paul succeeded his father in 1986 and in 1996 renamed his restaurant and hotel to his own name. He has continued the culinary tradition and love for Jura wines from his father.
It's nice to sit down with a cold craft beer and some quite elaborate amuse-bouche while you look at the menu and the wine list to make your selection before you proceed to the dining room to eat. The dining room is quite formal and classical, and so is the service, with nice tablecloths, cutlery and crockery. It's clear they also strive to source the best ingredients and offer seasonal dishes. It's a formal restaurant but somehow you feel relaxed.
As much as we insisted to sommelier Alain Guillou that we'd like to see the cave, he didn't give in. "It's a mess, full of cases of wine everywhere, and not very nice to see", he said. I'm used to messy cellars (you should see mine!), I actually like them, but I didn't get to see it this time. Well at least we managed to unearth a couple of gems from it, two bottles from the stellar 1999 vintage. I prefer to drink something with a few years rather than the latest vintages.
You'd expect delicious bread and butter in a French restaurant like this and they didn't disappoint. There were different kinds of bread and assorted flavored butters. Ordering the wine ASAP is a good idea, so they bring it before the food arrives and you have some time to assess it. Mature bottles of Overnoy are hard to come across, so when the sommelier proposed a bottle of the 1999 Arbois Pupillin Chardonnay-Savagnin we jumped at the opportunity.
You need to know your Overnoys, as the labels are all the same. The differentiation comes from the wax and the bottle sizes. This was a regular 75 cl bottle, which corresponds to the normal releases; when the wines are kept for longer in barrel for extended aging and late bottling, they are presented in 50cl bottles. The ultra-rare Vin Jaune is, of course, sold in a 62-cl. clavelin with a different label and sealed with thick yellow wax; it's unique in many ways. Then the varietal is color coded on the wax that seals the bottles. Red wax belongs to red wine, which is always Ploussard (although they have recently planted a little Trousseau, so let's see what happens) the red varietal from Pupillin where the winery and vineyards are located. Then for the whites it's white wax for Chardonnay, yellow for Savagnin and a dark green for the Chardonnay-Savagnin blend produced only in years when they feel the Chardonnay alone is a little heady. One year they messed up the wax and it came out black, which puzzled everyone and collectors all over the world are for the hunt for one of these rare black wax Overnoy bottles...
Pierre Overnoy officially retired after the 2000 vintage, although he's still involved in the winery and is not completely disconnected (and most probably never will), although he devotes much more time now to baking sourdough bread. Emmanuel Houillon started working with him in 1989 and he took over in 2001. I suspect the long aging, small bottles –and possibly the Vin Jaune too- have the signature of Overnoy in them much more than the regular bottlings.
OK, so our rare Overnoy blend of Chardonnay with Savagnin is uncorked now, let's get back to the food. There are a number of menus available and they usually change with the season and the available products. The dishes are based on classical French recipes with some modern touches, like some exotic ingredients, textures, spices or alternative preparations. Nothing too esoteric but quite elaborate and with many ingredients, sauces and sides to the point that each dish usually takes up three lines on the menu. If you're not fluent in French you might have problems understanding what a given dish is until you identify its main ingredient (hint: it's usually on the first line). We went for the Saveurs du Mois (flavors of the month), the seasonal seven-course menu, which seemed more than enough. There are longer ones and also a shorter one for lunch only with the option to order à la carte. Bear in mind that these menus change all the time.
The first course was crayfish with salsify and herbs. The names, as I explained, are rather convoluted and give very much detail of ingredients used, in this case it was Ecrevisses, scorsonères & jeunes pousses d'herbes, cobes de gelée aux sucs de salsifis & huile citronée à la cardamome, emulsion au gingembre frais. So yes, there was cardamom, ginger, salsify and so on. I believe crayfish have been an ingredient in classical French cuisine since Fernand Point created his famous gratin of crayfish. This dish was nicely balanced and the crayfish were very fresh and nicely à point. Better take a look at it:
There were only two of us that night, so we figured out we'd order two wines and follow the evolution throughout dinner. We had only started but soon came a second dish. It was time for some frogs' legs! The frogs' legs were of course accompanied by many ingredients and came with some delicious spongy cakes and presented on a chunk of golden beets and some crunchy stuff that provided contrast and texture. Frogs' legs are, of course, classical French fare too.
It was time to open the second bottle. L'Étoile is a minuscule village with its own appellation to the southwest of Château Chalon where the star is Domaine de Montbourgeau. Here the marl soils have a little more limestone than your average soil in the Jura and the conditions (slightly cooler) are ideal for Chardonnay and for more elegant, fresher wines. That suits perfectly the style of Montbourgeau from which we ordered the 1999 l'Étoile Vin Jaune. 1999 was a superb vintage for Vin Jaune as it was somehow warm and the Savagnin ripened properly, which benefits the development of the veil of yeasts. This 1999 has some development given the time it has already spent in bottle, almost a decade by now. The evolution is mainly in the complex aromas that have the inevitable Jura twang of spice, mushrooms and curry while the palate is very lively with great acidity and that sapid sensation that makes Jura wines so apt for most foods. It is powerful and elegant at the same time.
The Montbourgeau certainly went well with the fish course, a magnificent poached John Dory cooked in its own juice, which followed a technique that makes sure the fish doesn't dry out. Besides that, the cooking point was perfect, with crackling freshness and the flavors were clean, focused and precise. It was served with artichokes and gnocchi, but the freshness and perfect cooking of the fish were outstanding. It was simply delicious.
Unlike in many tasting menus from more modern chefs where I feel their creativity suits starters and aperitifs better, here I found the main dishes were better. The meat was also very tender, it almost dissolved in your mouth. It was a veal shoulder with some truffled potatoes and shallots. Although the Montbourgeau was more powerful and had more life ahead, the two whites were drunk with the meat and both had enough body and oomph to stand up to the meat; for a change nobody missed a red.
Everything was perfect up until this point. The killer that night might have been the emulsion of Mont d'Or cheese, one of the most popular runny, soft cheeses produced in the Jura, so runny that it needs to be tied with a band of spruce and sold in round wooden boxes. It came with horn of plenty or black trumpet (trompettes des morts) mushrooms and croquant potato. It sounds good, and it was good, but it was rather large and a bit heavy.
The dessert was visually stunning –all the colors matched- but it was far too large; half of it would have been enough, because there were two of each, the crunchy citric cylinder, the cardamom cake and the mandarin sorbet.
We were rather full. We ordered some tea. They always bring you bite-size chocolates and cakey things to munch with the coffee. These mignardises didn't stop coming and were mostly delicious, so it was hard to resist them!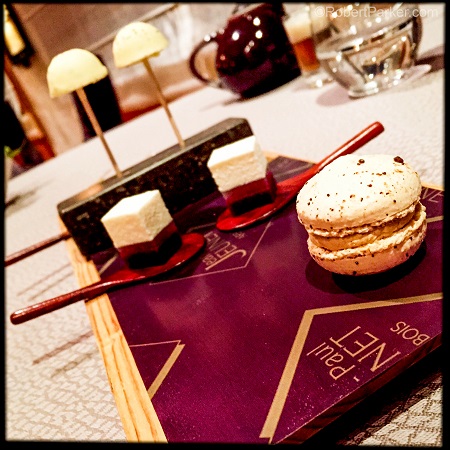 Overall the food was very good and the wines were superb, but the final sensation was of being a bit tired. Perhaps the dishes were too baroque, had to many ingredients, flavors and textures that required all your attention, and some were too large. I'm complaining here because I ate too much. I can hardly believe it... I'll be back, but I believe next time I'll order à la carte.
---
More articles from this author