Robert Parker Gala Dinner #2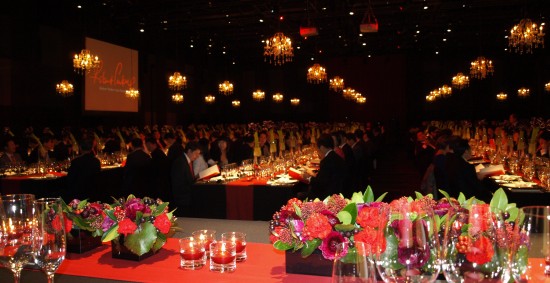 Following the Robert Parker Gala Dinner #1, the same group of chefs prepared an even bigger Gala #2 the following evening at the Hotel Shilla to conclude my educational tastings in Seoul. Other than the Champagnes, we enjoyed a different assortment of wines that I had chosen. There were over 300 guests in attendance, and once again, the impeccable quality of service and the attention to detail was as meticulous as I have ever seen. Every wine and course was served to everyone at the same time. Moreover, the food was extraordinary. For the 300 diners, there were at least 100 service staff.
As for the cuisine, I still can not get very excited about abalone (pictured below), but it is considered a delicacy throughout Asia. What I did get excited about was the fabulous rendition of the wild mushroom risotto, although I did not see any difference between Korean mushrooms and those I have had elsewhere. Other delicious offerings included the lobster ravioli and the caramelized foie gras, which was cooked to perfection (pictured below). I don't know how the chef got the caramelized aspect so perfect, especially for 300+ people. The classic pan-fried tenderloin of Wagyu with a beautiful truffle and morel sauce was outstanding. I missed what looked like a beautiful cheese course and a stunning chestnut mousse as I was busy signing autographs and talking with guests about the wines.
Speaking of those wines, the two Bollinger cuvées performed as beautifully as they did the night before. I need to see what they are selling for state-side as I may make the non-vintage Brut my house champagne. 1998 is an underrated vintage in Piedmont, and at ten years of age, these wines appear to have developed beautifully. The perfectly balanced Gaja 1998 Sperss is sensational, and was a sublime match with the wild mushroom risotto. Its medium ruby color is followed by an incredibly flamboyant, complex nose of truffles, tobacco, sweet cherries, smoke, and earth. It should remain at its peak of maturity for another decade. One of the greatest Châteauneuf du Papes made is Beaucastel's luxury cuvée, Hommage à Jacques Perrin. To see the 1998 served in magnum to over 300 people blew my mind. As a lover of Châteauneuf du Pape, and not having had any for nearly three weeks, I may have overdone it, but this wine was showing fabulously well. Unlike most of the Jacques Perrins, which are dominated by Mourvèdre, this is one vintage where the Grenache component represents a larger component than the Mourvèdre.
Perhaps it is the sweetness of the fruit (the wine is totally dry analytically), but the full-bodied, gorgeous perfume of garrigue, lavender, kirsch, licorice, and spice was head-spinning. I noticed the Korean crowd seemed to favor this wine and the Run Rig from Torbreck more than the Gaja Sperss or what I thought was a perfect expression of wine, the 1989 La Mission Haut-Brion. That wine is showing some amber at the edge, but it offers an incredible intoxicating nose of burning embers, charcoal, sweet black fruits, and spice box, accompanied by an opulent, fleshy mouthfeel. Several of the guests commented that they thought the wine was light, but that may be because it was sandwiched between the Hommage à Jacques Perrin and the Run Rig. TheTorbreck 2004 Run Rig, aged in 100% French oak, is a blend of approximately 95% Shiraz and the rest co-fermented Viognier. Its exotic, flamboyant nose, decadently luxurious flavors and opulence make for quite an impression. While it was not as complex as the La Mission Haut-Brion, it, along with the Châteauneuf du Pape, was definitely the wine that blew most of the guests away. It was also a perfect match with the tenderloin of Wagyu. We finished with another brilliant showing of a Taylor Vintage Port, the 2000. This year seems to have been somewhat forgotten by many consumers, but this wine was superb, and I enjoyed every sip of it.
I must thank the Hotel Shilla and the Samsung credit card people for one of the most perfect evenings of wine, food, and service that I have ever witnessed. They even threw in the number one Korean pop star (sorry, I forgot his name), who sang a version of Frank Sinatra's My Waythat was incredible. All in all, this was a memorable night that will never be forgotten.
---
More articles from this author