Where to Eat in Genova, Italy
I've compiled a list of the best eateries I discovered while spending time in the authentic port city of Genova. All of these places come highly recommended and offer a wide variety of cuisine at varying price-points.

Panino Marino: This shop is located right in Porto Antico and offers freshly prepared sandwiches filled with tasty, fresh fish. The sandwiches are filling and affordable (around 5 Euros), and they even have wine if you're in the mood for a glass of sparkling or white (no red here!). Simple, fresh and delicious.




Pizzeria dai Caruggi: This tiny, quite literally hole-in-the-wall pizzeria was a great find. There was a ridiculous amount of pizzas from which to choose, but we kept it simple and ordered the margherita, which was just cheese and tomatoes—no basil like we do the margherita here in the States. It was again quite simple, but very tasty. Of course, the cheese must have been top-notch and fresh to have packed in so much flavor, and the tomatoes were freshly crushed—no heavy sauce here! This was a great no-frills pizzeria that didn't disappoint in terms of flavor. And with prices ranges from 4-12 Euros, you just can't go wrong.


Ekom: This place was interesting because in the back there was a full grocery store, but the storefront itself was a café and pasticerria all in one. We popped into here one morning for cappuccinos and a couple of Italian pastries that were sweet and glazed with sugar, filling to say the least. We also grabbed some focaccia cipolla (onion focaccia): a flavorful, olive-oil filled slice of heaven smothered in the wonderful taste of roasted onions.



Very Italian Panino: This tiny salumeria e formaggeria (salumi and cheese shop) was a good find. We walked by this on our way to the Piazza de Ferrari and were pleased to grab some seriously fresh salami and cheese for just $12 Euro. Unbeknownst to us, we asked for the one that was made with half deer meat and the other half pork. Sounds a bit strange, but it was very satisfying—full of rich flavor and fat, and quite soft in texture compared to the less-fresh salami we have here in the States.



Bar Reale: This osteria is located, as the name suggests, right down the street from Palazzo Reale (one of the beautiful palaces that is a must-see in Genova). On the day we visited, the chef was cooking up a Ligurian specialty: spaghetti with fresh seafood. Never have I ever enjoyed so much fresh seafood piled on top of a large plate of al-dente spaghetti. The clams, mussels and calamari were all tender, and I ate every last bit of it. Paired with a glass of the house white wine, this was a quintessential Genovese lunch.



Da Giuli Trattoria: This family-run trattoria was one of the most down to earth meals we had in Italy. Our waitress spoke zero English and the chef was an older Italian man; locals were dining and the whole feel of the restaurant screamed authenticity. Like all Ligurian restaurants, seafood is what's on the menu, so we ordered the seafood ravioli and gambero (shrimp) spaghetti. The seafood ravioli was delicious; each half-side of the raviolis were dyed with squid ink, and filled with a classic ricotta and spinach combination. The mound of seafood on top consisted of clams, mussels, calamari and shrimp. The seafood was undeniably fresh and the ravioli homemade.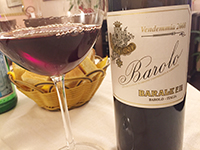 Ristorante Perico: Having made the mistake of not making early reservations for a restaurant on New Year's Eve, my husband and I were worried we wouldn't be able to find a restaurant with open seats. In Italy, News Years Eve is traditionally spent at a restaurant enjoying a long, multi-course meal. This celebration is called capodanno. We had read that it was a traditionally long meal, but didn't realize it literally meant that the food would keep rolling out onto the table up until the clock struck midnight. We were both flabbergasted by the amount of food and the length of the dinner, which in its entirety ended up being 4+ hours—an endless unfolding of food, wine, spumante, limoncello and espresso.
What I loved about Ristorante Perico was that the entire family ran the operation. There were three generations working together, with the father in the back as chef, the mother running front of house, the adolescent running dishes and the grandmother quietly soothing the infant. And the other guests were also big Italian families. The whole experience was inviting and jovial, ending in an impromptu dance party after the clock struck midnight. Even the grandfathers were getting out of their chairs to dance the American pop music that the mother had started when they popped the spumante and poured glasses all around.
We enjoyed a beautiful Barale 2008 Barolo that was just beginning to show its tertiary characteristics with aromas of dried violets, dried fruit, sweet tobacco leaf and leather. The palate still possessed lots of structure with those wonderful dried fruit flavors, with noticeable but soft tannins; even though it has a medium to full body, it felt a bit angular in the mouth, which added nice layers of structure and complexity. The food, of course, was very good. Everything felt simply prepared with passion and fresh ingredients. My favorite dish of the night was the lasagne Bolgnese–al dente noodles filled with a creamy, beef sauce and lightly sprinkled with fresh parsley. It was very good home-style cooking from a family that couldn't have been any more warm and welcoming.

---
More articles from this author